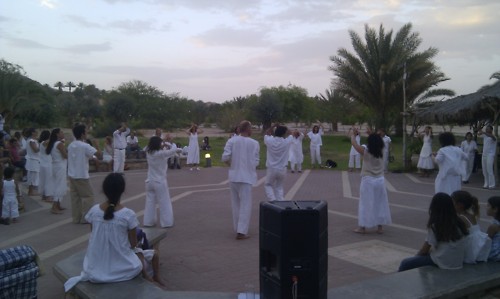 Last night was Shabbat eve. Every week on Friday evening, there is a communal celebration. The kibbutzniks put on their best white clothes and gather for a shabbat meal. But before dinner is served, they dance in front of the dining hall.
It is a special sort of dance, developed especially by and for Neot Semadar, expressing their unity and shared creativity – but that is another story.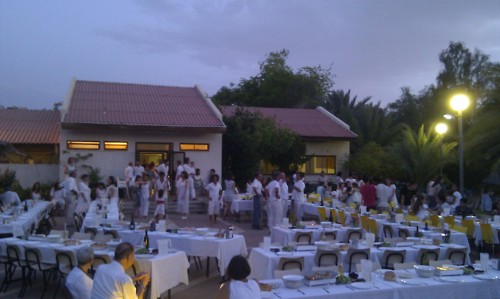 After the shabbat dance, as the sun sets, all of the tables and chairs are brought from the dining hall outside into the courtyard.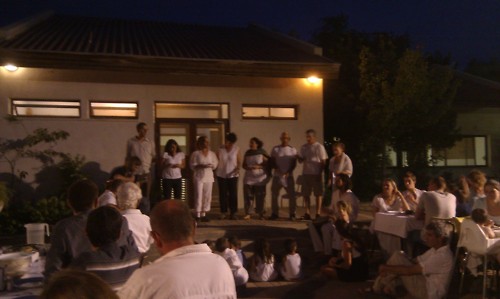 When all the tables are set and people have been seated, the sun has usually already set completely. But before the meal begins, the shabbat kitchen crew (which organises the three shabbat meals: The Friday evening meal, the Saturday breakfast and the Saturday afternoon meal) will sing a song.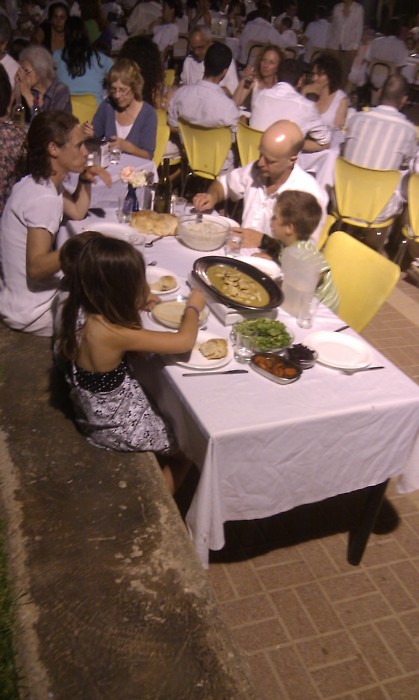 And then we finally get to eat! The shabbat eve meal is one of only two weekly occasions where we get fish, as well as the special sweet shabbat bread called Challah.
People's demeanor change a lot once they put on their Shabbat white. The families sit together for the meal (during the week, children and parents have their meals separately – the children in the Children's House, the adults in the Dining Hall). The children play and laugh and the adults have a glass or two of the local wine. Everybody are happily relaxed after a long week.
Shabbat is our weekly day off here. Today everybody can sleep in and take time to do things their own way. Well, not everybody. I got up at 5.30 to go and milk the goats. The goats don't really care if it's shabbat or not. But the goats and the goat yard is a whole other story, suffice to say that I was done in time for the late breakfast.