Jeg har skrevet et bidrag til det nyeste nummer af KVaN, der er et fagtidsskrift for læreruddannelse og skole. Det er et tema-nummer om Bæredygtighed, og jeg er kommet i fint selskab med bl.a. Steen Hildebrandt, Lone Belling, Johannes Andersen og række pædagogiske praktikere og forskere, jeg ikke kendte i forvejen, der alle udforsker, hvordan man kan sætte bæredygtighed i spil i undervisning og skole.
Jeg blev inviteret til at skrive om bæredygtighed i forhold til medborgerskab, og du kan læse mit bidrag herunder. Men hvis du er nysgerrig på feltet, kan jeg kun anbefale at købe tidsskriftet og læse hele tjavsen.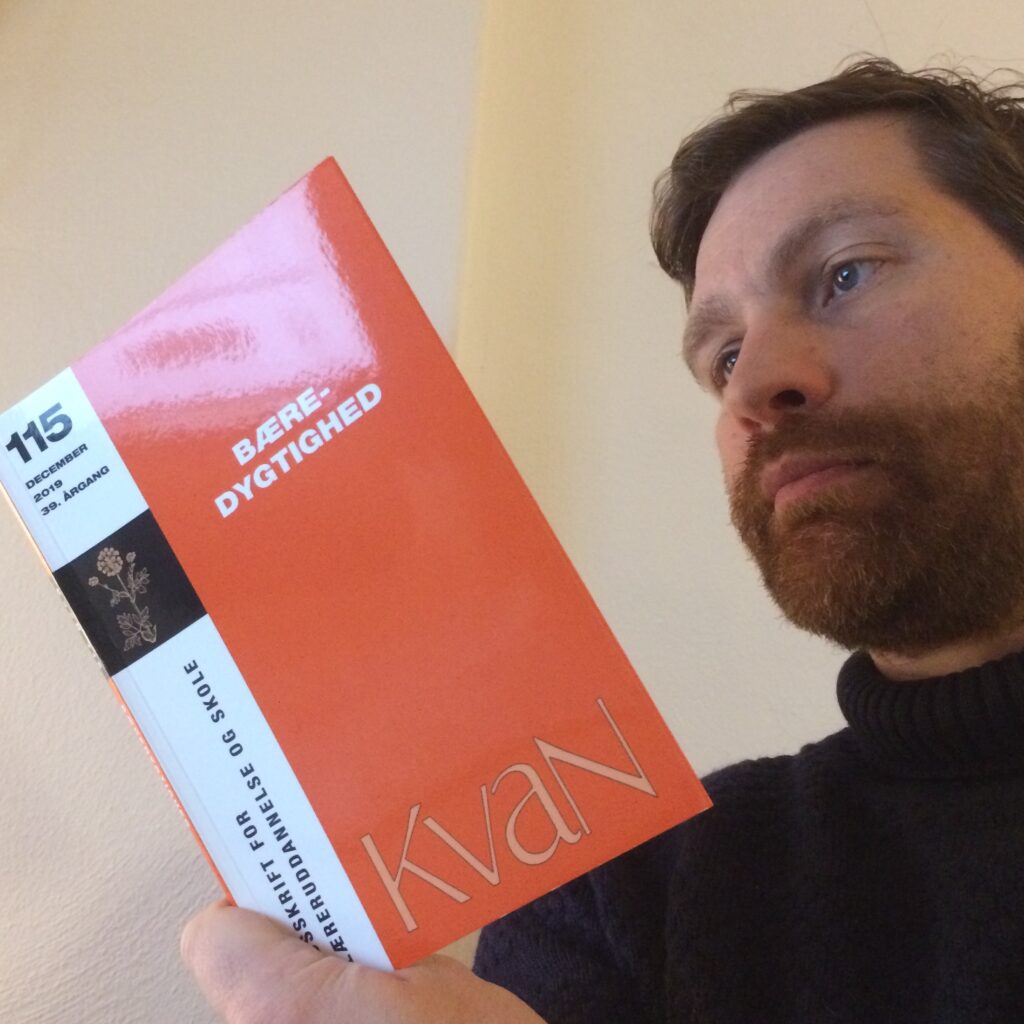 Jordboen – det 21. århundredes medborger
Klimastrejken fredag d. 15. marts 2019 var historisk. Ikke bare fordi, at over 15.000 skoleelever gik på gaderne i 27 byer rundt om i Danmark. Ikke bare fordi det var en del af den internationale klimastrejke, hvor over 1,5 million unge strejkede i 2083 byer i 125 lande over hele kloden. Og ikke kun fordi, at det var første gang, at umyndige børn og unge gik sammen om at lægge et massivt moralsk og politisk pres på deres forældre og de politikere, de havde valgt. Men måske mest af alt fordi, at klimastrejken på denne måde har vist sig at have taget hul på det seneste kapitel i demokratiets udviklingshistorie.
Demokratiet – både som styreform og som institution – er til stadighed blevet udviklet af dem, der har stået udenfor. Igen og igen har det været dem, der ikke formelt bliver anset som medborgere; dem uden stemmeret og uden taleret; dem hvis ønsker og bekymringer er blevet ignoreret, der har udfordret, udviklet og udvidet rammerne for det moderne demokrati – og dermed for hvem, der bliver anset for at have ret til at tage del og præge samfundet omkring dem.
Denne bevægelse har været i gang siden 1849, hvor samfundets mest privilegerede mænd gik på gaden og tilkæmpede sig en Grundlov, der sikrede dem deres rettigheder som borgere. Til at starte med gav Grundloven 15% af den danske befolkning stemmeret (det var kun uberygtede danske mænd over 30 år, der havde sin egen husstand og var økonomisk uafhængige, der måtte stemme – bl.a. ud fra den antagelse, at sådanne mænd repræsenterede hele deres husstand, herunder kvinder og tyende), hvilket blev anset for meget progressivt for sin tid.
Gennem de sidste 150 år har der været løbende bevægelse mod at udvide kredsen af medbestemmelse til flere og flere. Med systemskiftet i 1901 blev alle mænd uanset stand og indkomst ligeværdige borgere. Og kort tid efter opnåede danske kvinder samme rettigheder med valgret til lokalvalg i 1908 og til folketingsvalg i 1915 – resultatet af over 50 års vedvarende kamp. Og samtidigt blev valgretsalderen også sænket af flere omgange. Først fra 30 til 25 år i 1915, og sidste gang fra 20 til 18 år i 1978.
Og selvom mange gennem de senere år har argumenteret for, at valgretten bør sættes yderligere ned til 16 år, så er det ikke denne form for demokratisk udvidelse, jeg ser klimastrejkerne som udtryk for. I stedet er det et fælles opråb for solidaritet med alle dem, der bliver påvirket af klimaforstyrrelserne og tabet af biodiversitet, men som ikke kan tale deres egen sag. Det er ikke bare børnene, der kommer til at vokse op i en faretruende anderledes fremtid, men også alle de dyre- og plantearter, der er i fare for at uddø, og alle de fremtidige generationer, der kommer til at leve med konsekvenserne af de valg, som vi, der lever nu, træffer på deres vegne.
Det antropocentriske medborgerskab
Denne mangel på rettigheder og repræsentation i forhold til konsekvenserne af klima- og naturkriserne udfordrer den medborgerskabsforståelse, som de sidste 150 års kamp for udvidelse af demokratiet bygger på, og som måske kommer klarest til udtryk i Artikel 1 i FNs menneskerettighedserklæring: "Alle mennesker er født lige i værdighed og rettigheder. De er udstyret med fornuft og samvittighed, og bør handle mod hverandre i broderskabets ånd."
Det er en smuk og vidtløftig sætning – men den er også fundamentalt antropocentrisk (fra græsk anthropos: menneske), for den fremhæver menneskets særstatus blandt alle levende væsener. Vi alene er udstyret med fornuft og samvittighed, der gør os i stand til at handle etisk. Og derfor fastlægger den, at det kun er andre (levende, menneskelige) medborgere, som har etisk betydningsfulde, og som vi har rettigheder og forpligtelser overfor. Der er intet i FNs menneskerettighedserklæring – eller den danske grundlov for den sags skyld – der forpligter borgere til på nogen måde at tage hensyn til ikke-menneskelige arter. For de hverken samvittighedsfulde eller fornuftige, omend de er i live.
Den australske filosof Peter Singer kalder denne antropocentriske tilgang for 'speciesisme', altså arts-chauvanisme på linje med racisme og køns-chauvinisme (Singer 1979). En uretmæssig forskelsbehandling, på samme måde, som dengang man mente, at afrikanske slaver ikke var at betragte som 'rigtige' mennesker, og at de havde lavere intelligens og højere smertetærskel end europæere. Eller da man mente at kvinder var i deres følelsers vold og ikke i stand til at tænke sagligt og rationelt. På samme måde gælder det, siger Singer, når vi ikke anerkender, at andre arter også mærker smerte, lyst og glæde. Enhver, der har hørt brølet fra en ko, der er blevet adskilt fra sin nyfødte kalv, eller har set en hund logre begejstret ved udsigten til at komme ud på tur, ved, at disse følelser ikke er forbeholdt mennesker alene.
Økosfæren – vores fælles hjem
Så hvordan kan vi gentænke medborgerskab, så det også anerkender planter og dyr og efterkommeres – levende eller fremtidige – ret til at leve og trives? Og dermed også anerkender, at vores handlinger i dag påvirker deres muligheder for at leve – eller ligefrem overleve i fremtiden? Hvad er alternativet til et antropocentrisk medborgerskab?
For det første må vi gøre os klart, at medborgerskab er et kollektivt identitetsbegreb, der defineres ud fra medlemskab af et større fællesskab. Hidtil har medborgerskabet været knyttet til menneskelige fællesskaber som byer, bystater eller nationalstater. Det er også denne forståelse, der går igen i den udvikling af det danske demokrati, jeg har beskrevet ovenfor, og som flugter med udviklingen i de fleste andre vestlige lande. Men problemet er, at klima- eller naturkriserne ikke respekterer landegrænser. Fugle flyver på tværs af kontinenter, plasticaffald flyder med havstrømmene, bilos og fabriksrøg stiger op i den samme atmosfære. De udfordringer, som vi står overfor, er globale og kan ikke løses af noget land alene. Derfor skal vi lære at se os selv som jordboere, der alle har et medansvar for den planet, vi bebor.
Det kræver, at vi har en grundlæggende forståelse for, hvordan denne planet fungerer. Man kan inddele Jorden op i fire komponenter: Geosfæren (laget af jordarter på Jordens overflade), hydrosfæren (den samlende mængde af vand, damp og is på Jorden) og atmosfæren (laget af gasser og luftarter mellem jordens overflade og rummet) og biosfæren (den samlede mængde af biomasse – af levende organismer på Jorden).
I 1970erne præsenterede den engelske forsker James Lovelock "Gaia-hypotesen", hvis påstand er, at disse fire komponenter ikke bare er lag på lag, men indgår i et komplekst samspil, der skaber en balance eller ekvilibrium, der muliggør liv (Lovelock 1979). For eksempel når træer, alger og andre planter planter producerer det meste af ilten i atmosfæren, så hjælper de med at vedligeholde mængden af ilt på et niveau, der kan understøtte komplekse former for liv, men uden at producere så megen ilt, at der er fare for, at det hele går op i flammer.
Alle træerne og de øvrige arter, der udgør i Amazonas-regnskoven er dybt afhængige af, at der falder over 2 meter regn hvert år. Men denne voldsomme nedbørsmængde skyldes ikke bare, at den stærke sol ved ækvator driver afdampningen fra havene. For livet i Amazonas modtager ikke bare regn, den fremkalder det. Den store mængde vegetation afgiver 20 milliarder ton vanddamp hver dag og fylder luften med svampesporer, pollen, bladrester og mikrober, der giver de perfekte forhold for regn. Med så meget vand i luften, og så mange mikropartikler, som vandet kan kondensere på, samler der sig hurtigt nye regnskyer.
Amazonas er bare ét af de mange bærende økosystemer i det gigantiske, forbundne kredsløb, hvorigennem levende arter påvirker og forandrer Jorden. Og på den måde er naturen selv en grundlæggende forsætning for at skabe og opretholde forudsætningerne for liv på jorden. Som den canadiske astrobiolog Colin Goldblatt siger det, "Jordens definerende egenskab er, at det understøtter liv på en planetær skala. Og Jorden lærer os, at beboere og beboelighed er uadskillelige" (citeret i Grinspoon 2017). Liv ikke bare er noget, der foregår på Jorden. Det er biosfæren – selve mangfoldigheden af liv – der er dét, der gør livet muligt. Hønen er ægget!
Dette er kernen i Lovelock's hypotese: Jordens fire komponenter – vand, luft, jord og liv –udgør tilsammen ét enormt, komplekst system. En økosfære, der både består af levende arter, økosystemer og kredsløb, og ikke-levende grundstoffer og fysiske kræfter. Dette er, siger Lovelock, ét stort levende væsen – en superorganisme – der i sin helhed har evnen til at vedligeholde vores planet og gøre det til en egnet og behagelig ramme for liv. Han kalder dette væsen for Gaia. Dette navn er ikke tilfældigt valgt, for i den græske mytologi er Gaia ikke bare jordens gudinde, hun er selve Jorden. Moder Jord (Lovelock 1979).
Hvis Moder Jord er for højstemt, så er det måske nemmere at forholde sig den amerikanske opfinder Buckminster Fuller, der kalder det "Rumskibet Jorden": Et komplekst, selvorganiseret, selvbærende system, der rejser gennem rummet med al den livsunderstøttende infrastruktur, den skal bruge. Det eneste, der skal tilsættes, er sollys (Fuller 1968)
Hidtil er der ingen, der har styret dette rumskib. Alting har fundet sin orden på egen, selvbærende vis. Men gennem de sidste 100 år har menneskeheden skabt så store forandringer i økosfæren, at vi er begyndt ændre dets sammensætning og funktioner. På denne måde er klimaforstyrrelserne og tabet af vild natur og biodiversitet er to sider af samme sag, for mængden af liv har en direkte indvirkning på Jordens klima, som eksemplet med Amazonas ovenfor viser.
Det har ført til, at geologer nu argumenterer for, at vi nu er trådt ind i den antropocæne tid. En ny geologisk tidsalder, hvor menneskeheden er den primære kraft, der former Jordens geologi. Med næsten 8 milliarder mennesker har vi opnået en enorm magt over Jorden. Og vi bruger enorme mængder fossile brændsler og størsteparten af Jordens frugtbare landarealer til at understøtte vores behov i sådan et omfang, at vi helt tager for givet, at vores samfund og behov kommer først. Denne magtfuldkommenhed kommer måske bedst til udtryk, når folk helt nonchalant siger, at vi skal "passe på klimaet" eller "tage hensyn til naturen". Som om "natur" eller "klima" er noget, som vi er afkoblede af, på afstand af eller har magt over i sådan et omfang, at vi lige skal holde lidt igen. Men vores liv og samfund er ikke adskilt fra vores omgivelser, fra den jord vi står på, det vand vi drikker og den luft vi indånder. Som James Lovelock siger: "Vi er en del af denne Jord, og vi kan derfor ikke nøjes med at forholde os til vores affærer alene. Vi er så forbundne med Jorden, at dens kuldegysninger og feberhede også er vores kuldegysninger og feberhede." (citeret i Jabr 2019)
Det økocentriske medborgerskab
Vi er blot en lille del af et meget større system, som vi er dybt afhængige af – som et nyfødt barn er afhængig af sin mor. Eller som en kræftsvulst. Igennem de senere år er flere og flere aktivister og skribenter begyndt at bruge kræft som metafor for menneskehedens udvikling. En konstant voksende, opslugende og fordærvende kraft, der langsomt udvinder og udpiner alt på Jorden til at nære dens umættelige behov. Men denne metafor er misvisende. For som den amerikanske astrobiolog David Grinspoon har bemærket, så stopper kræftceller ikke op og snakker med hinanden og siger, "hey, måske skulle vi ikke være en kræftsvulst, for hvis denne person dør, så dør vi også." (Grinspoon 2017)
Det er denne evne til refleksion, der gør menneskeheden enestående i dette store system. Med den amerikanske forfatter og jordbrugsforsker Wes Jackson's ord, så er vi er planetens bevidsthed. 4 milliarder års evolution har ført frem til dette punkt, hvor økosfæren er blevet selvbevidst. Og det er os, menneskeheden, der er denne bevidsthed. Ingen andre arter kan se eller forstå alle de sammenhænge og forbindelser, der gør økosfæren mulig (The Conversation, 2012). Ingen andre arter kan værdsætte den mangfoldighed, skønhed og enorme tilfældighed, der har gjort livet muligt. Og det giver os et helt særligt ansvar. For ligesom vi har magten til at gøre planeten ubeboelig, har vi også alene evnen til lære at genkende og forstærke de klima-stabiliserende processer, der allerede er økosfæren.
Dette ansvar og denne evne til at forstå og værdsætte Jorden som samlet system mener jeg vil være kernen i en ny form for økocentrisk medborgerskab. "Øko" kommer oprindeligt fra det græske ord oikos, der både betyder hus, husholdning eller familie. Denne rod går igen i både økologi (viden om organismers forhold til sine omgivelser) og økonomi (styring af en husholdning). Men dets grundessens kan nok bedst defineres som hjem. Et økocentrisk medborgerskab er således en form for medborgerskab, der ikke sætter individuelle menneskers rettigheder først, men i stedet fokuserer på det større hjem, vi bebor og deler med alt andet liv: Selve økosfæren.
Set i dette perspektiv er menneskehedens forhold til resten af økosfæren ikke så meget som en kræftsvulst, men måske snarere en ung og uprøvet bilist, der er ude og køre for første gang. Pludselig går det op for hende, at hun drøner afsted ude på motorvejen i en kæmpestor lastbil, og at alle hun elsker, og alt, hvad hun holder af, og alle hun nogensinde har kendt, er i lastrummet bagi. Og at hun faktisk slet ikke ved, hvordan hun kan styre!
Det er denne erkendelse, der får skoleeleverne til at strejke. De ser nyhederne om artstab og skovbrande og oversvømmelser og tørke, og de se den enorme kløft imellem ord og handling. Mellem hvad de har lært i skolen – og den hverdag og det samfund, som de er en del af. Og derfor spørger de, "Er der en voksen tilstede?"
De råber op og kigger forgæves nogen, der kan tage ansvar – ikke bare for at sikre kortsigtede behov som uddannelse og karriere og velfærd – men for at sikre det større fællesskab af liv, som vi indgår i. For at sikre, at den økosfære, dette Rumskibet Jorden, som vi alle er afhængige af og uløseligt forbundet med, fortsat kan være et trygt, komfortabelt og rigt hjem for os alle.
Atter en gang er det næste kapitel i demokratiets udviklingshistorie ved at blive skrevet af dem, der står udenfor. De kræver, at vi holder op med blot at se os selv som statsborgere, der kun er forpligtede overfor vores land og landsmænd, til at være jordboere, der er forpligtede overfor Jorden som helhed. Denne proces er allerede igang. Flere lande har allerede påbegyndt denne forandring ved at indskrive naturens og vores efterkommeres rettigheder direkte i deres forfatninger. I 2008 gennemførte Ecuador en forfatningsændring, der bl.a. sikrer naturens liv "retten til at eksistere, vedblive, vedligeholde og forny sine vitale kredsløb, strukturer, funktioner og dens processer i evolutionen." Og i 2014 vedtog Norge en grundlovsændring, så det i §112 står, at "Enhver har rett til et miljø som sikrer helsen, og til en natur der produksjonsevne og mangfold bevares. Naturens ressurser skal disponeres ut fra en langsiktig og allsidig betraktning som ivaretar denne rett også for etterslekten." Dermed bliver det ulovligt at handle på måder, der mindsker naturgrundlaget og fremtidige generationers udfoldelsesmuligheder.
Som alle tidligere udvidelser af demokratiet, så drives denne udvikling af en fortsat kamp for anerkendelse og rettigheder. Denne kamp starter ikke med ny lovgivning, men med ny viden, nye værdier og levevis. Og her spiller skolen en afgørende rolle. Her afslutningsvist vil jeg pege på tre elementer, som skolen bør prioritere for at give kommende generationer det fornødne fundament, der kan ruste dem til at være økocentriske medborgere, der kan forvalte denne planet forsvarligt:
1. Forstå økosfæren
Samspillet mellem levende og ikke-levende elementer i økosfæren er nærmest uendeligt komplekst, men det er afgørende, at man får en grundlæggende forståelse for, hvordan dette samspil fungerer, for at kunne indgå i og tage medansvar for den klode, vi bor på. Dette kræver, at man lærer at undersøge helheder, eller systemer, i deres større sammenhæng, snarere end blot deres enkelte dele.
Denne tilgang går ofte under betegnelsen "systemisk tænkning" (eller systems thinking på engelsk). Dette dækker ikke en fast defineret teori, men snarere en praksis og en tankegang, der går på tværs af faglige retninger og discipliner, hvilket desværre har betydet, at der stort set ikke bliver undervist i denne tilgang i Danmark. Helt kort fortalt er systemisk tænkning er en overordnet tilgang til at forstå hele systemer, hvor relationerne mellem de enkelte dele er med til at forme helheden. Hvilket gør, at ikke bare kan forstå de enkelt dele hver for sig, men kun ved at kigge på hele systemet. Det er for eksempel det, en økolog gør, når hun undersøger et økosystem, hvor dyr, planter, vejr og næringsstoffer spiller sammen og påvirker hinanden på kryds og tværs. Man kan ikke forstå hele økosystemet ved kun at undersøge et enkelt dyr eller en enkelt plante. For det hele hænger sammen.
Derfor bør alle børn lære at tænke systemisk allerede i grundskolen. For det giver et sprog og en viden til at forstå hvordan vi kan arbejde med at løse de komplekse og forbundne problemstillinger, som vi står overfor. Jeg kan varmt anbefale Donella Meadows' bog "Thinking in Systems: A primer", der giver en fremragende introduktion til systemisk tænkning som felt og som tilgang (Meadows 2008).
2. Værdsætte økosfæren
Allerede som børn skal vi lære at værdsætte økosfæren som vores hjem, og dermed lærer at anerkende og respektere det større fællesskab, som vi er en del af og gensidigt afhængige af. Men for at gøre dette, kan vi ikke længere have som mål at være "bæredygtige". For bæredygtighed er grundlæggende et antropocentrisk begreb, der signalerer, at økosfæren er noget vi frit kan forbruge, så længe vi nøjes med kun lige at tage så meget, at vi ikke udpiner den fuldstændigt. Som William McDonough, en af stifterne af 'vugge til vugge'-bevægelsen, polemisk bemærker: "Hvis jeg spurgte dig, hvordan det gik med dit ægteskab, og du svarede, at det var 'bæredygtigt', så ville jeg have ondt af dig" (McDonough & Braungart 2002).
Et godt ægteskab er ikke bæredygtigt; det er gensidigt. Vi kan ikke nøjes med bare at tage, vi må også give tilbage til det større fællesskab, vi er en del af. Som den amerikanske botaniker og forfatter Robin Wall Kimmerer bemærker, så er gensidighed ikke bare udtryk for god opdragelse, det er også sådan økosfæren fungerer: Alt bliver givet videre. Den enes efterladenskaber er den næstes næring (Wall Kimmerer 2015).
Derfor bør alle børn lære at værdsætte den rigdom, der findes i verden. Nærmest alle verdens religioner rummer taknemmelighed, men især verdens oprindelige folk har traditioner, der tydeliggør, at vores relation til økosfæren er gensidig. Dette ses for eksempel hos den Nordamerikanske Haudanosaunee-stamme, hvor hver skoledag starter med en fælles taksigelsesbøn for alle økosfærens elementer og kredsløb, der minder om vores forbundethed til og forpligtelse overfor det større fællesskab (Haudanosaunee, udateret).
3. Forvalte økosfæren
Viden og værdier er intet, hvis de ikke udleves i praksis. Mere end noget andet kræver det mesterlære: At vi som voksne viser vejen og engagerer børnene i at forvalte økosfæren sammen med os. Det kan både være helt konkret i form af at dyrke jorden, høste og lave mad sammen, eller arbejde med naturgenopretning og hele den skade, der er blevet påført vores lokale økosystemer, eller på anden måde give tilbage til økosfæren. Men det kan også være ved at tage del i kampen for at sikre en retfærdig fordeling af den rigdom, som er blevet menneskeheden til del. For vi kan ikke forvalte økosfæren forsvarligt, hvis vi ikke også gør op med den sociale og økonomiske ulighed, der medvirker til ødelæggelsen af vores fælles hjem.
Litteratur
The Conversation (2012) Episode 22: Interview with Wes Jackson: http://www.findtheconversation.com/episode-twenty-two-wes-jackson/.
Fuller, B. (1968) Operating Manual for Spaceship Earth. Lars Muller.
Grinspoon, D. (2017) Earth in Human Hands. Long Now Foundation seminar, 6. september 2017: http://longnow.org/seminars/02017/sep/06/earth-human-hands/.
Haudanosaunee-stammen (udateret) Thanksgiving Address, kan findes på: https://americanindian.si.edu/environment/pdf/01_02_Thanksgiving_Address.pdf
Jabr, F. (2019) The Earth Is Just as Alive as You Are. New York Times, 20. april 2019: https://www.nytimes.com/2019/04/20/opinion/sunday/amazon-earth-rain-forest-environment.html.
Lovelock, J.E. (1979) Gaia: A New Look at Life on Earth. Oxford University Press.
McDonough, W. & Braungart, M. (2002) Cradle to Cradle: Remaking the Way We Make Things. North Point Press.
Meadows, D. (2008) Thinking in Systems — A Primer. Chelsea Green Publishing.
Singer, P. (1979) Practical Ethics Cambridge University Press.
Wall Kimmerer, R. (2015) Braiding Sweetgrass: Indigenous Wisdom, Scientific Knowledge and the Teachings of Plants. Milkweed Editions.