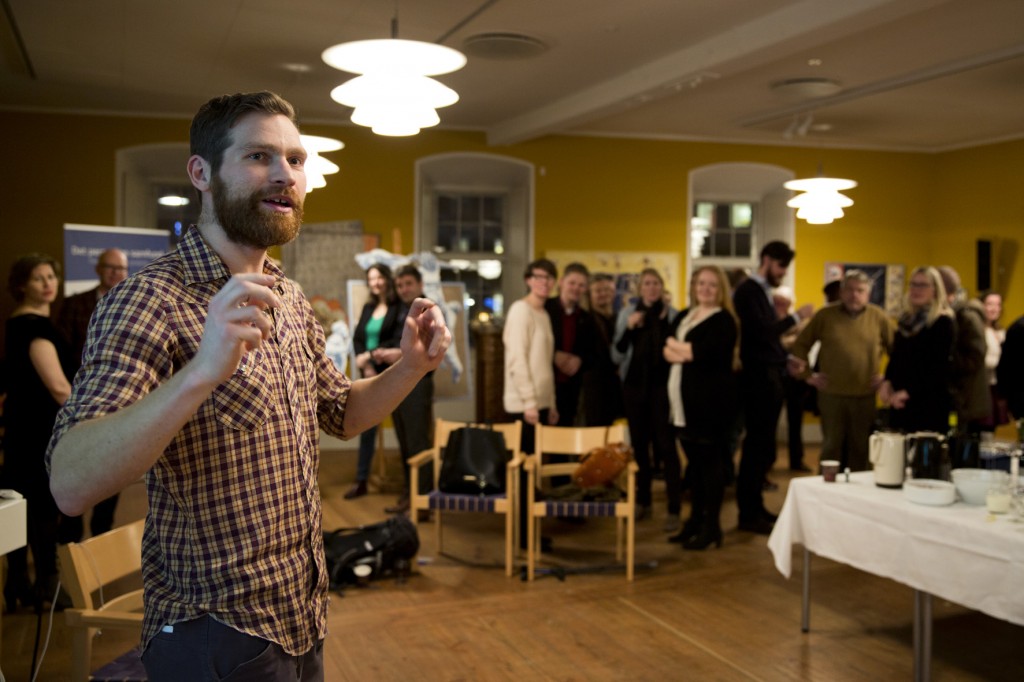 I'm a community organiser and author rooted in Danish civil society.
In the past 15 years, I've been organising Danish civil society to make it stronger, more vibrant and powerful. I've helped build a series of groundbreaking Danish community-based initiatives – including the Copenhagen Food Coop, Borgerlyst [eng. "Civic desire"], Conversation Salons, Medborgerne – Denmark's first broad-based citizens' alliance and the Danish climate movement.
Along the way, I've co-written the books "Borgerlyst – Handlekraft i hverdagen" (2013), "Samtalesaloner – små skub, der får folk til at falde i snak" (2016) og "Borgerlyst – en projektbiografi" (2018) with my Borgerlyst co-founder Nadja Pass. And in 2023, I published my first solo book "Følelsen af demokrati."
Generally, my work falls into three categories:
Active citizen
I've been engaged in a number of projects and communities in Danish civil society:
Since 2009, I been an active part of the Copenhagen-based organic food co-op Københavns Fødevarefællesskab. Helping it grow from around 30 members to more than 3500 members, distributing more than 5 tonnes of local, organic fruit and vegetables every week.
In 2010, I co-founded Borgerlyst, a laboratory for civic engagement, with Nadja Pass. "Borgerlyst" is a Danish neologism that can be translated as 'civic desire'. It is meant as a sort of play on the phrase 'civic duty'. Whereas civic duty is all the obligations, rules and expectations society forces upon you, civic desire is something like the opposite. With Borgerlyst, we wanted to create a platform to make it easier for citizens to connect with each other and realise their civic desires. In 2015, I left Borgerlyst to focus on working with community organising in Copenhagen.
As part of Borgerlyst, I developed Samtalesaloner – conversation salons in English – a format for helping people meet and get to know one another. I host conversation salons and give courses for people interested in hosting their own salons.
From 2015 to 2018, I helped found and build Medborgerne – the first broad-based citizens' alliance in Denmark based on the IAF model. From 2016 to 2018, I was employed as the organisation's first community organiser and help establish the alliance in the Nørrebro/Nordvest neighbourhoods of Copenhagen.
Since 2018, I've been involved in the Danish climate movement, and spent an enormous amount of time pushing for the Danish climate law that was passed in December 2019 after a landslide green election for the Danish parliament in June of 2019. I served on the organisation's Board of Trustees until 2022.
Independent consultant
I have a Master's degree in Anthropology from the University of Copenhagen. I wrote my thesis on the shared use and development of the Ubuntu Linux open source system.
Since 2007, I have made my living as a consultant and ethnographic researcher, helping organisations understand the everyday lives, practices, motivations, worries and needs of their users and stakeholders. This covers everything from qualitative user research, facilitating workshops and meetings to writing reports and giving presentations. I've worked with big and small organisations from all three sectors:
Companies like Novo Nordisk, Danske Bank and Telmore.
Public sector institutions like the Danish Environmental Protection Agency, the Municipality of Copenhagen and the Municipality of Albertslund.
Civil society organisations like the Danish Football Association, the DaneAge Association and the trade union FOA.
Writer
I like to write essays and stories – both in Danish and in English. Among my writings are:
The four books mentioned above – so far, they're only available in Danish.
Various newspaper columns and opinion pieces in Danish newspapers Politiken and Dagbladet Information (also only in Danish).
Ten years' worth of blog posts. Both on this blog about anthropology, technology, systems thinking and various autobiographical notes (in English), and on the old Borgerlyst blog about civic engagement (in Danish).