Even though I formally stepped down from my role as co-instigator at Borgerlyst back in June and left the reins to Nadja, we still collaborate from time to time. And now, we've just finished our second book together: A small hands-on manual on how to design and host your own conversation salons: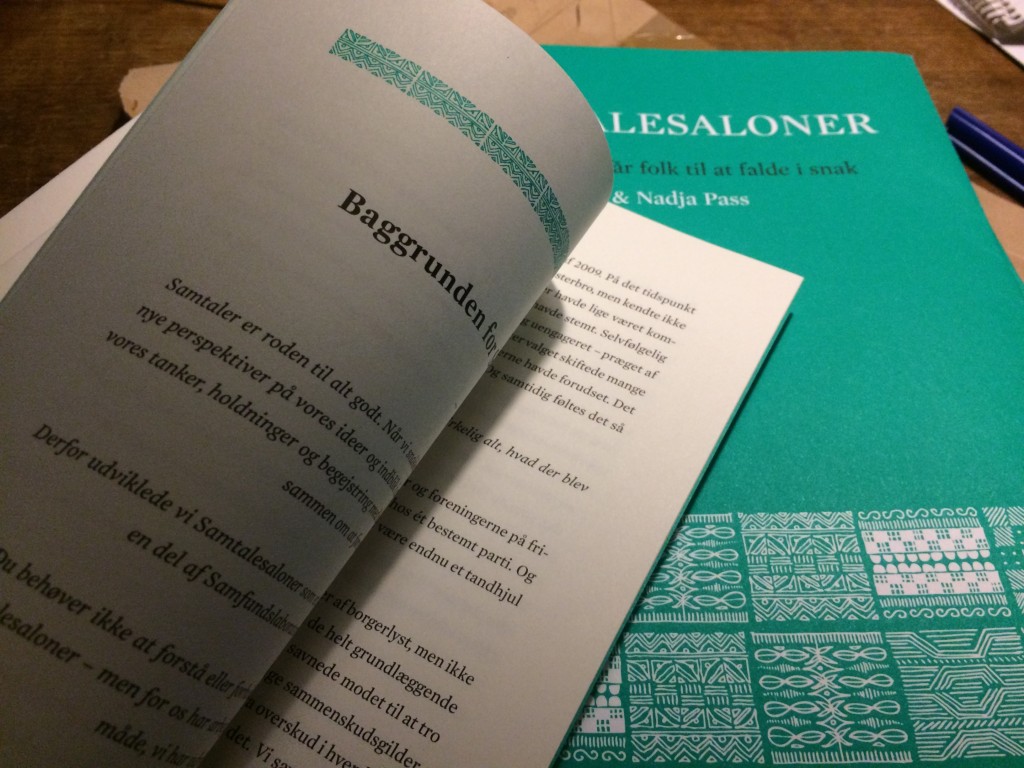 The book is called Samtalesaloner – små skub, der får folk til at falde i snak, which is a Danish play on words that translates roughly as "Conversation salons – small prompts to start better conversations."
The book is similar in look and feel to our first book, and it's full of stories, tips and tricks on how to develop your own conversation salons, questions and exercises.
We haven't really written a lot about conversation salons in English, but it's a method inspired by the 19th century coffee salons, the conversation dinners of Theodore Zeldin and the Oxford Muse, the questions of Max Frisch, the ideas of the School of Life and many others.
We've been wanting to publish this book for a long while, as it brings together a lot of the thoughts and methods that we've developed together over the past 5 years.
The official release date will be the 15th of January, but as a sneak preview for old and new friends of Borgerlyst, you can order the book now and receive it in time for Christmas – if we have your order before the 15th of December.
If you're in or near Copenhagen, you can also drop by at Klub, Linnésgade 25 close to Nørreport Station on Thursday December 17th and buy a copy or two at Klub's great Christmas Bazaar.
Otherwise, you'll have to wait until January. And who knows? Maybe we'll celebrate the book release with an extra-special conversation salon…