I only stayed in Lotan for two weeks, but in that time I did get to try my hand at some of the creative ecology practiced there.
First of all, I got to join the Green Apprentices for some of their lectures and activities. These included learning how to construct strawbale houses, learning about Earthships and other sustainable building practices, discussing how to apply permaculture design practices in the city and more.
A definite highlight was our excursion to the nearby Kibbutz Ketura to visit their experimental organic orchard, which is part of the Arava Institute of Environmental Studies' Center for Sustainable Agriculture.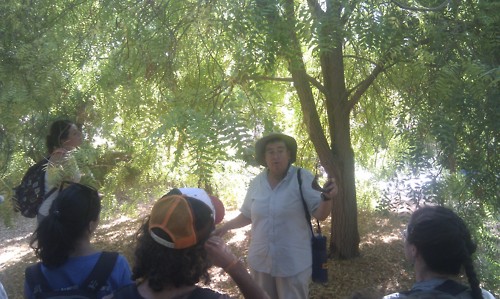 We spent a morning with the director of the Centre, Dr. Elaine Solowey, who is a leading researcher in the field of desert agriculture and sustainable agriculture. She has spent the last 25 years experimenting to adapt various kinds of perennial crops, mainly trees, to the extremely arid climate of the Arava. Here, crops need to be both salt-tolerant, heat-tolerant and be able to manage on relatively little water.
Solowey sees the task of adapting crops to desert climates to be of vital importance in a world where deserts are spreading every year as a result of global climate change. Being able to grow food even in the most inhospitable climates may prove to be vital in the long run. Among Solowey's current experiments are Mezquite trees, Marula trees, Neem trees, and perhaps most interestingly, Coconut palms, which nobody apparently have tried as a crop in Israel before.
Elaine is committed to her cause, and she is definitely not afraid to answer the typical critical questions of commercial viability and the relevance of trying to grow stuff in one of the driest places on the planet with razor sharp wit. She nearly bit the head of one of the students here for asking why she just didn't grow olives like everybody else. It was a lot of fun.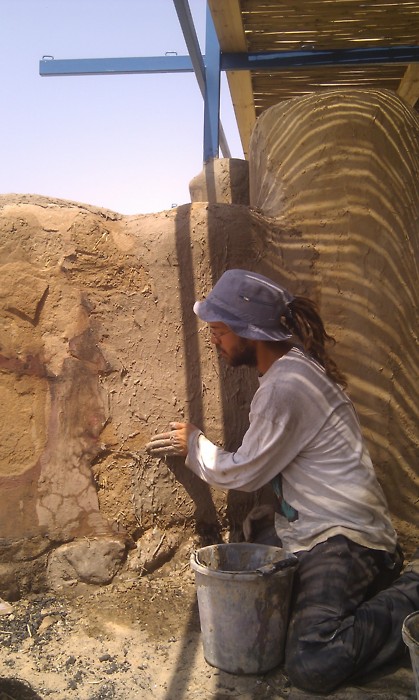 A big part of the practical work that I've been doing here has involved mud. I have learned that mud is also a verb. And in Lotan, there is a lot of mudding going on. There is a wide array of buildings, walls, benches, sculptures, outdoor ovens, lamps, playgrounds that have been built out of mud (typically, the mud is covering tires and other old rubbish). In the photo above, long-time volunteer Yotam is applying a final coat of mud to a wall.
It was fun to learn to mix and apply the varying consistencies of mud. But I eventually graduated to the more artistic, decorative mudding. This was my little mud masterpiece: the Super Mario Bros. minigolf castle: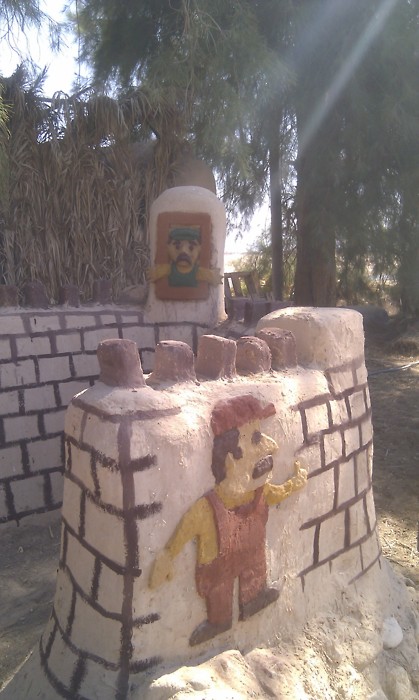 The castle was part of a 3-course mud minigolf course at the Centre of Creative Ecology's playground and ecological experimentarium known as the Eco-Kef ("Kef" is "Fun" in Hebrew).
But two weeks pass quickly, and I have left Lotan to go back to Denmark this Friday. In a way, it feels to soon. Denmark is overcast with a grey continuous drizzle that provides a monotonous backdrop against which the trees and grass appear to be so GREEN. Even so, I'll miss the desert, especially the times of day when the sun wasn't blazing down upon us all: