Being in such a peaceful and harmonic place as Neot Semadar, it would be easy to forget that you're in a country that has been at war with its neighbours once almost every decade since the 1940s.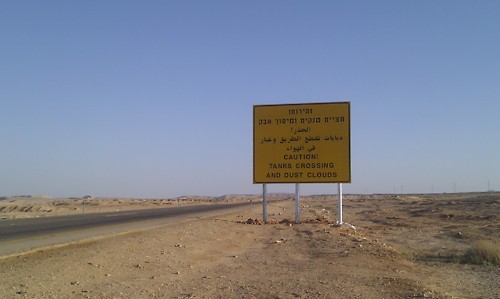 But because Israel is such a small country, even Neot Semadar is not very far away from reality. Just north of the kibbutz, on the other side of the Turtle Mountain, the Israeli military has a big training ground for tank warfare. And every other day or so, you can hear the not so distant booming of guns and the rattle of machine gun fire from across the ridge, reminding you that the army, and the threat of war, is still there.
Along the road going north from Neot Semadar, the army has posted very solid warning signs such as these to keep people from entering their training ground.
This means that we can't go hiking in the desert around the kibbutz because of the danger of being blown to bits by random gun fire. Except on Shabbat, when the soldiers rest. So we can go for short half-day excursions into the wild.