Last week was pretty busy not only because of Shavuot, but also because of the wedding. On Thursday, Nadav and Sharon wed in Ne'ot Semadar, and there was a big old celebration with 200 people, lots of food, lots of singing and lots of dancing, as you can see from the photo.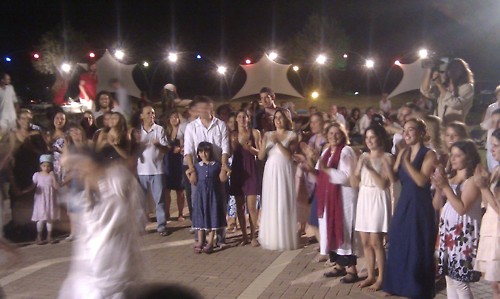 It was a communal wedding with everyone in the kibbutz being involved in the preparations. The chief wedding planner works with Nadav in the dairy, and several other key organisers works with Sharon in the kitchen. It seems that these organisers were more involved in making everything happen than the bride and groom themselves.
Everybody in the kibbutz also performs songs or speeches on the night to celebrate the newly-weds. It is a communal expression of creativity as everybody appears to be able to either play and instrument or sing beautifully around here.
The communal aspect of the wedding is also underlined by the fact that everybody gets up for work as usual at 6 am the following morning. There are still goats to milk and milk to pasteurize and fruits to pick – as well as a wedding party to clean up after.
Did I mention that it was an alcohol-free party? Apart from a very weak welcome punch, there was no alcohol at all at the wedding. It wasn't until afterwards that I realised how long it is since I've been to a big celebration or party with no alcohol. Something to think about when you consider Danish alcohol culture.